TEAM WOW 2019
OUR TEAM:
Conductor :
Andrea Loss – graduated at the Conservatory in Udine (Clarinet) and studied conducting with Jan Cober (NL), Ronald Johnson (USA), Felix Hauswirth (CH) , Isaac Karabtchevsky (BR), Diego Dini Ciacci (I) orchestration , harmony , composition and singing.
He conducted several wind orchestra in Italy, Europe, and USA. He is the principal conductor of the "Orchestra di fiati Rosmini " from Rovereto (I), Orchestra di Fiati della Provincia di Vicenza (I) , Banda cittadina Peschiera del Garda (I), Corpo bandistico di Lizzana (I) and he is teacher and artistic director of ISEB (Wind Band European Institute ).
---
Leading artists:
Sylwester Sobola- oboe. Graduated Music Academy Karol Szymanowski in Katowice, in 1986 in the oboe class of prof. Edward Mandera.
In 1986–1991  worked at Wojciech Rajski Polish Chamber Philharmonic in Sopot. In 1991–1997  in the Great Symphony Orchestra of the Polish Radio in Katowice. Since 1997 he is a soloist of the Grand Theater of the National Opera in Warsaw.
In the years 1992–2001obtained  phd and become assistant professor  in oboe class of Music Academy Karol Lipiński in Wrocław . Since 2002 oboe lecturer at the Białystok Branch of the Music University of Fryderyk Chopin in Warsaw. He runs methodological and program seminars for teachers of primary and secondary music schools.
He coopetares with many orchestras in the country, e.g. Sinfonia Varsovia, Sinfonietta Cracovia, Radio Symphony Orchestra in Warsaw and others. He is a soloist and chamber musician, made many archival and disc recordings and performed many opera premieres. He has performed in such countries as: Japan, China, Germany, Denmark, France, Great Britain, Italy, Arab Emirates, Oman, Lebanon and others.
Michael Cede.
Flutist. Studied at the Conservatory of his native city Innsbruck and obtained the solo performance degree with distinction.After that he continued flute studies with teachers like Irena Grafenauer, Michael Martin Kofler, Philip Boucly, Paul Meisen, Emanuel Pahud and in the "Capital of Flute" Paris with Michel Moragues.
Michael Cede has been honored with many prizes and awards in Austria and has performed concertos, recitals and chamber music with artists like Karl-Heinz Schütz, Michael Schöch, Michael Öttl, Pierre-Laurent Aimard and Ensembles like "Windkraft",TENM and "Österreichisches Ensemble für Neue Musik" OENM.
He has been featured all over the world – in Vienna, Amsterdam, Riga, Buenos Aires, New Orleans, Jerusalem and 2014 in Beijing – performing at the Central Conservatory of Music.
For four years he was a member of the Tiroler Symphonieorchester Innsbruck and since 2008 he is professor for flute at the Conservatory of Innsbruck.
Michael Cede is a very versatile artist. He also conducts, composes and – after having completed his university degree of archtecture – he holds lectures and workshops about cross-connections between visual arts and music.
Wojciech
 Dunaj
Clarinet. Graduated at Music Academy of Frederic Chopin in Warsaw clarinet class of prof. Benjamin Przeździęk. Doctoral degree at the Academy of Music. K. Lipinski in Wrocław. He is the winner of the XXVI National Competition for Young Instrumentalists in Włoszakowice.
He performs as a soloist, chamber and orchestral musician. Clarinetist in Podlasie Opera and Philarmonic in Bialystok, Poland , recorded CD, Has concerts in Europe and Asia. Especially appreciates the cooperation with Kevin Kenner, which performed chamber music of Romantic composers. In its activities goes  beyond the stage . For several years worked with the Theatre "Wierszalin", with which he has performed in Poland and abroad (UK, USA, Canada).
For more than 20 years of experience in the teaching of music. He is an assistant professor at the University of Music Frideric  Chopin and teaches clarinet at the Complex Music Schools  in Bialystok. Share knowledge and experience to th young people on music courses.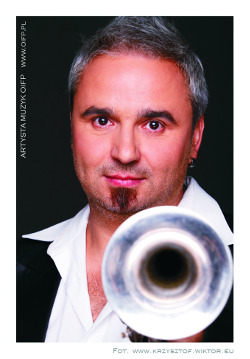 Tomasz Witek
Graduated at Music Academy of Frederic Chopin in Warsaw 1993-1995 (trumpet) and Chopin Academy of Music in Warsaw,  / 1995-1998 instrumental-pedagogical faculty, class trumpet.
Works in the Podlasie Opera and Philharmonic from 1995 first trumpet. Since 1996, trumpet teacher in Music Schools. IJPaderewski in Bialystok .In 2005, the founder and leader of Big-Band ZSM in Białystok. From 2006 proffesor on chamber ensembles Big Band at the Fryderyk Chopin University of Music filia in Białystok . In 2007 the show-band trumpeter in the ship-Oceania Cruises Insignia.
He has concerts and participated in various musical projects-stage / Germany, Austria, Belgium, the Netherlands, France, Lithuania, Latvia, Russia, China, Egypt, Brazil, Argentina … /
tel. 0 606 119 927
 Adam Krzyczkowski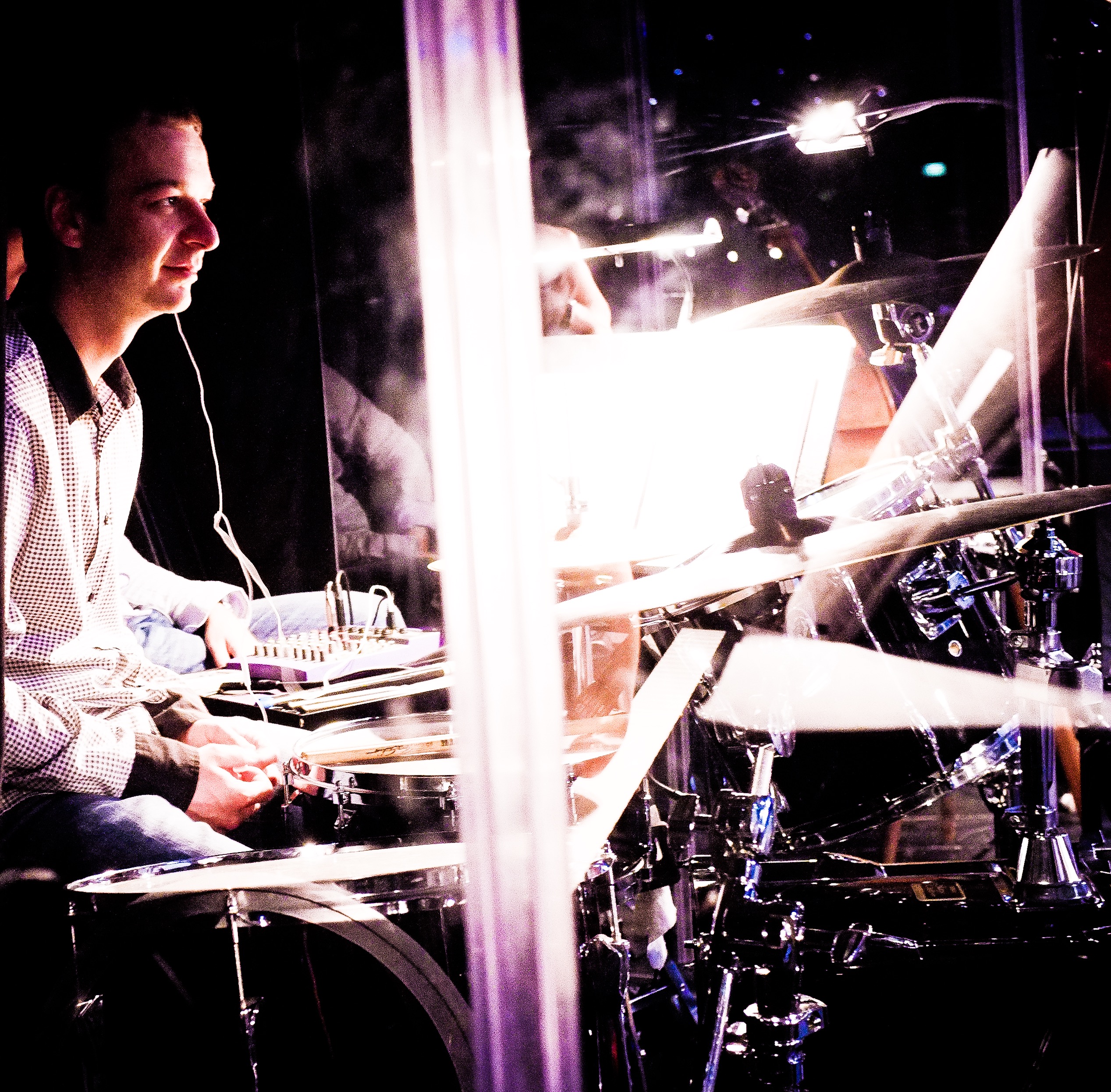 Percussion. In 2008Graduate of the Music Academy Fryderyk Chopin in Warsaw, in the instrumental and pedagogical department in the class of  Henryk Mikołajczyk. Since 2003, he has been collaborating with the Podlasie Opera and Philharmonic as: drummer tutti, and since 2008 is its employee. From 2012, a teacher of playing percussion in the Music Schools Complex Ignacy Paderewski in Bialystok. He actively participates in entertainment and symphonic projects.
 Ewa Wasilewska-Sawicka 
 Percussion. Graduated  Music Academy in Warsaw in the percussion class of Henryk Mikołajczyk. In 2000, she created the percussion class at PSM I st. In Ełk, and since 2005  is a teacher at the Music Schools Complex in Białystok. Her students  won numerous awards from auditions and percussion competitions. Cooperated with the Bialystok Opera and Philharmonic, the Theater Academy and the entertainment music scene as a session musician. For many years she has been taking part in drum workshops, including games on congas, cajon and classical percussion instruments. She is fascinated by Spanish and Cuban music, whose influence can be heard in her own band's recordings.
Ewa Sajko – in  2017graduated with a master's degree,  Fryderyk Chopin University of Music in Warsaw  the instrumental and pedagogical department. From September 2018, he is a percussion teacher at the State Music School in Białystok. He takes part in numerous projects and concerts organized by the Opera and the Podlasie Philharmonic.
  Magdalena Kania
Bassoon. Graduated Academy of Music. K. Szymanowski (class of prof. Z. Tlatlika).
Perfected his skills under the guidance of F. Essmann, M. Baranski, T. Miczki, W. Orawka.
In 1997-2004 first bassoon  in Polish National Song and Dance Ensemble "Śląsk". Now a first bassoon Symphony Orchestra Podlasie Opera and Philharmonic in Białystok. Teacher in Music School in Białystok
Sławomir Bielski
Saxophone. Graduated at the University of Music in Warsaw (clarinet).Postgraduate studies in saxophone at Music Academy. I. J. Paderewski in Poznan with dr. Darius Samolej. Perfected his studies with  Wildy Zumwalda and Patrick Meighan. He participated in courses and masterclasses led by Ed Bogard, Jean Marie Londeix, Joseph Wytko, Claude Delangle. He has concerts in Russia and Croatia, and Pomeranian Saxophone Festival in Szczecin, Nowa Sol, Korzuchowie. Since 1992 he teaches saxophone at the Music School in Białystok.
Stanisław Kruciński , tuba,  eufonium, saxhorn, tuba, euphonium, saxhorn

Artur Nowicki
French Horn. Graduated  Music Academy. Frederic Chopin in Warsaw . Certified teacher with many years of experience teaching. He teaches horn at the School of Music in Bialystok.  Constantly improving their professional skills by participating in numerous courses, seminars and workshops organized in the country and abroad. Co-organizer and organizer of numerous seminars (flute, oboe, bassoons, Trumpet,'s Horn, percussion ). Section Manager woodwind, brass and percussion. French horn player Podlasie Opera and Philharmonic in Białystok.
OiFP The orchestra has performed in most European countries and China.
 Tomasz Czekała. 
French Horn.Graduated in 1991 Academy of Music. Karol Szymanowski in Katowice, prof. Mieczyslaw Korcza . First horn player in the orchestra of the Opera and Philharmonic in Białystok, with which he has performed as a soloist, and has made many recordings. In 1987 he was awarded the National Competition of Wind Instruments High School in Koszalin. For many years, along with the wind quintet "Senza Battuta" toured Polish scenes .Perfomed with National India Symfonic Orchestra, Filharmonia Slaska, Lublin Philharmonic, Philharmonic Olsztyn, Beethoven Academy Orchestra, Polish Radio Orchestra and many others on stages in Poland and abroad. Since 1992. Horn teacher  at the School of Music in Bialystok and the University of Music Fryderyk Chopin in Warsaw,   Instrumental – Pedagogical Department in Bialystok.
Szymon Stępka. Cello.
Graduated  Music Academy F. Chopin (now the Fryderyk Chopin University of Music), tunder prof. Tomasz Strahla and prof. Andrzej Zieliński. He perfected his skills with outstanding educators, including K. Michalik, A. Bauer, A. Orkisz and C. Ilia from the University of Arts in Berlin. Professor Catalin Ilea described him as an extremely talented cellist, whose personality and professionalism promise a great musical future. Szymon Stępka has been a member of the Podlasie Opera and Philharmonic Orchestra in Bialystok since 2003, and since 2007 a concertmaster of the cello in that orchestra. In 2008 he became a co-founder of the Quartet Alexander Tansman. As a soloist, he performed under the baton of Wojciech Rajski, Michał Klauza and Jan Miłosz Zarzycki, performing pieces by W. Lutosławski, M. Bruch and J. Haydn. As a chamber musician he performed, among others at festivals such as the Laboratory of Contemporary Music, Colors of Poland, Sanus per Artem, Jewish Culture Festival ZACHOR, Music in the Old Church. He collaborated in chamber music projects with such artists as: Kevin Kenner, Tomasz Strahl, Piotr Reichert, Łukasz Długosz. In March 2013 as a member of the Quartet of A. Tansman accompanied a delegation of representatives of the Polish parliament chaired by Mr. Bogdan Borusewicz, Speaker of the Polish Senate during his visit to Moldova. During this visit, he gave concerts including National Philharmonic in Chisinau. In autumn 2014, he was invited to participate in a tour with the outstanding soloist Krystian Zimerman. in the renowned Alte Oper concert hall in Frankfurt am Main. As a concertmaster, he performed solo parts during concerts in concert halls such as: Cadogan Hall in London, Sheldonian Theater in Oxford, Concert Hall of the M. Rimski-Korsakov Philharmonic in Saint Petersburg, National Philharmonic Concert Hall in Tallinn, National Philharmonic Concert Hall in Vilnius, The Swedish Radio Concert Hall in Stockholm, the Gothenburg Philharmonic Concert Hall, the Philharmonic Concert Hall in Liege, the National Philharmonic Concert Hall in Minsk and the Philharmonic Concert Hall in Lviv. He recorded for Polish Radio Lublin. In 2010, a CD with W.Z.Zycha songs was released by DUX, on which he performs a solo part in a concert for bass clarinet. In the 2015/2015 school year, he was a cello teacher at Psm I and II in Biała Podlaska. He cooperates with the Polish Chamber Philharmonic in Sopot under the direction of Wojciech Rajski
Ryszard Wolicki
Double bass. The first bassist Podlasie Opera and Philharmonic, since 1986 he has been the manager of the basses.  30 years teacher at the School of Music in Bialystok.His students w were successful and were winners of national and macro-regional competitions and auditions double bass, on leading positions. For many years he worked as a assistant at theFryderyk Chopin University of Music Deaprtment in Bialystok leading bass class and classes from orchestral and chamber music.
 Harfa
Aldona Poczwardowska. She graduated with honors from the Academy of Music. I. J. Paderewski in Poznań and postgraduate studies at the  Music University Frederic Chopin  atended numerous harp courses.
Became the first harpist Poznan Philharmonic, and since 1999 works as a first harpist in the Symphony Orchestra of the Podlasie Opera and Philharmonic.
Colaborates with the majority of Polish philharmonic orchestras and opera as well as with the National Philharmonic of Lithuania.
She performs as a soloist and chamber musician.
Since 2000. She teaches harp and chamber music at the School of Music in Bialystok.