Francisco Javier Gutiérrez Juan – conductor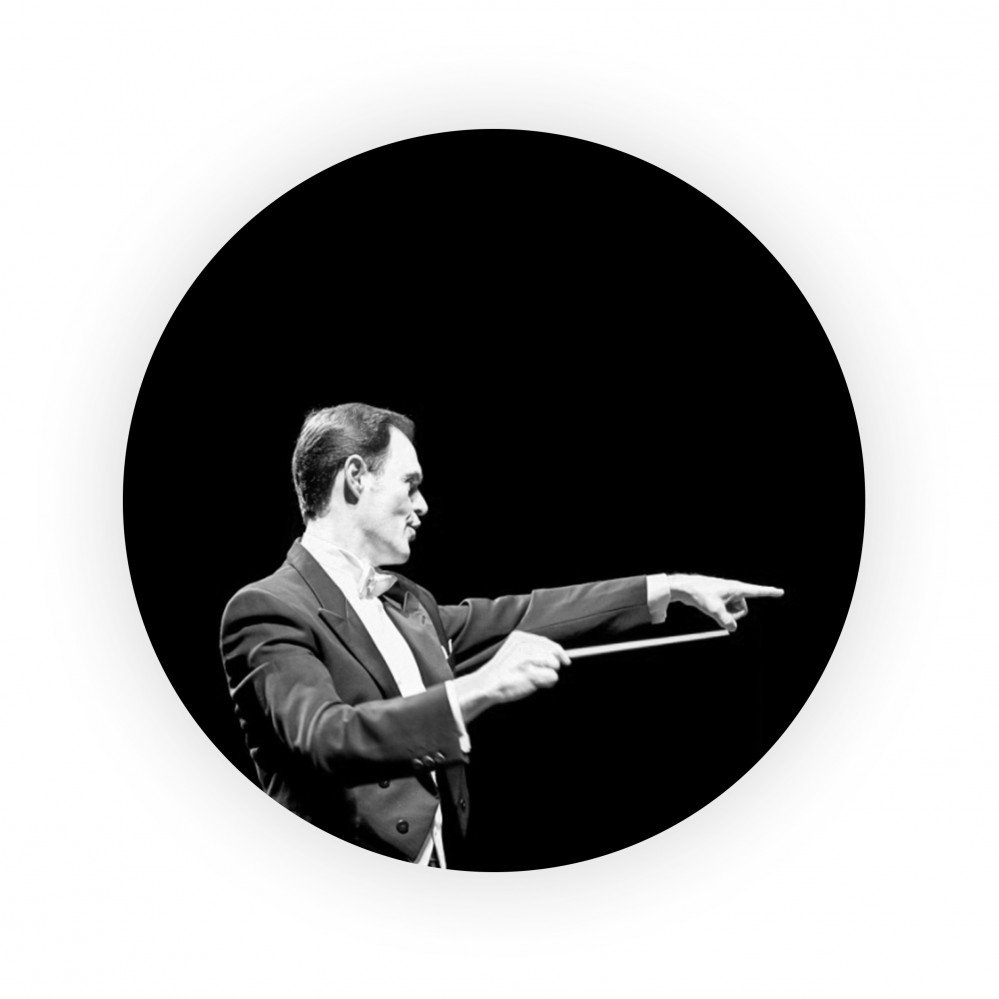 Assiduous conductor at the forefront of important professional symphonic orchestras and bands in Europe and America, he tackles all kinds of genres and makes recordings, television and film soundtracks. He is in possession of the titles: Superior Professor of Orchestra Conducting; Superior Professor of Composition; Superior Professor of Oboe; Professor of Solfeggio, Repentización and Transporte; etc. He has starred in important historical recoveries of lost or altered works, and published the treatise "La Forma Marcha" edited by ABEC.
At present he is the principal conductor of the Municipal Symphonic Band of Seville; conducts orchestras and symphonic bands and gives lectures and classes at universities in Spain, the United States, Portugal, Italy, Costa Rica, Slovenia, Argentina, Lithuania, Colombia, Poland and Venezuela; participates in international congresses; is part of tribunals in international competitions; He is President of the Music Section of the Hon. Athenaeum of Seville; collaborates with all kinds of media. He has received numerous European and American awards and decorations.
Among other formations, he has conducted the Royal Symphony Orchestra of Seville (Spain), the Symphony Orchestra of Castilla-León (Spain), Warmia-Masuria Philarmonic Orchestra (Olsztyn, Poland), the Cordoba Orchestra (Spain), Witold Lutosławski Chamber Philharmonic (Lomza, Poland), the Malaga Symphony Orchestra, the Maracaibo Symphony Orchestra (Venezuela), the Italian Camerata Strumentale (Italy), Orchestra Sinfonica "Città di Grosseto" (Italy), the Trimitas State Orchestra (Lithuania), SocialMusik Orcehstra (Spain), Andalusian Philharmonic Orchestra, Camerata Silva Dionisio – Purple (Portugal), Seville Philharmonic Orchestra, Orchestra Filarmonica Navigli di Milano (Italia), Harmonie Orchestra (Valencia), UPOL OK's Symphony Orchestra (Slovenia), Spain Radio TV Chamber Orchestra, Manuel Castillo Chamber Orchestra (Seville), Orchestra Classical of Granada, Symphonic Band of the Royal Guard of Spain (Spanish army), Berry College Symphony Wind Ensemble (USA), Rovereto Wind Orchestra (Italy), National Concert Band of San José (Costa Rica), Symphonic Band of the National Army of Colombia, MP Grisolía National Symphony Band (Argentina), Simón Bolívar Official Concert Band (Venezuela), Pacific Concert Band (Costa Rica), Guanacaste National Band and Puntarenas National Band (Costa Rica), Band of the Immemorial Regiment of the King Nº 1 (Spanish army), Music Band of the Soria Regiment Nº 9 (Spanish army), Music Unit of the Air Command of the Strait (Spanish army), Music Unit of the Southern Third of the Marine Infantry (Cartagena, Spanish army), Municipal Symphonic Bands of Madrid, Barcelona, La Coruña, Santiago de Compostela, Oviedo, Bilbao, Vitoria, Sta. Cruz de Tenerife, Albacete, Castellón, Alicante, Badajoz, Granada, Málaga, Huelva, Almería, Musikene Symphonic Band (San Sebastián), Symphonic Orchestra of the Fco. Guerrero Conservatory, Opera Choir of the Maestranza Theater (Seville) , Lyrical Choir of Huelva, Córdoba Opera Choir, Manuel de Falla Choir (Seville), Sevillana Zarzuela Company, Granada Classical Choir, etc.
Follow him on http://franciscojaviergutierrezjuan.blogspot.com.es/