Accompanists
Karina Komendera.
Pianist, chamber musician. Graduated from the State Comprehensive Music School with I* and II* level  in Bielsko-Biała  in 2006 – piano and saxophone classes. Later she graduated from  Warsaw Fryderyk Chopin University of Music in piano class of prof. Paweł Skrzypek (2011) and the Faculty of Management at the University of Warsaw (2012).Doctor of art in the discipline of artistic instrumentalism, in specialization – piano (2018). Winner of many national and international piano competitions. Awarded with scholarships from the President of the Council of Ministers of Poland, Ministry of Culture and National Heritage and the Department of Culture and Family Art of Bielsko-Biała for outstanding scientific and artistic achievements. In the years 2007-2009 she was a Gold Country Piano Institute scholarship holder in California-USA.
As a soloist and chamber musician she has performed  in Poland, Austria, Italy, Romania, Lithuania, Russia, Switzerland, Norway, Japan and USA. In 2010 she made her debut as a soloist on Broadway at La MaMa Theater in New York in the performance "Chopin – an Impression", starting her international tour. She mastered her piano skills with Thomas Graham from Royal College of Music, John Collins , Jorgen Larsen, Kevin Kenner and many Polish artists. She participated in Festivals and Interpretation Courses: Gaetano Zinetti Chamber Music in Verona and Poland-Norway Piano Duo Cultural Bridge in Trondheim and GCPI in Nevada City.
In 2016, she performed with the quartet. Alexander Tansman at a concert at San Anton Palace in Malta, as a guest of the President of Malta and the diplomatic corps.
Since 2016,  has been an official accompanist of the International Competition for Wind Instruments FINALIS. Collaborates with music theater soloists throughout the country, performing recitals with a musical repertoire, including at the invitation of the "Broadway in Poland" agency. Participates in  recordings. The piano workshop has perfected, among others, with Graham Scott, Thomas Hecht, John Perry, Jörgen Larsen, Kevin Kenner and many Polish artists. She participated in Festival and Interpretation Courses, including Gaetano Zinetti Chamber Music in Verona, Poland-Norway Piano Duo Cultural Bridge in Trondheim and GCPI in Nevada City.
Pianist of the Symphony Orchestra of the Podlasie Opera and Philharmonic, accompanist and vocal tutor. Saxophonist of Big Band OiFP. Lecturer at the Fryderyk Chopin University of Music – faculty in Bialystok.
LucaFerrini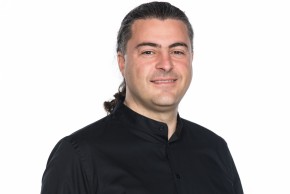 Piano studies at the Giuseppe Tartini State Conservatoire of Music in Trieste and harpsichord studies at the Jacopo Tomadini State Conservatoire of Music in Udine, obtaining degrees with full marks in piano, under the guidance of Prof. Giovanni Umberto Battel and harpsichord with Prof. Ilario Gregoletto. Studies in organ also pursued in Udine. Subjects studied: music theory; solfege (in all keys, spoken and sung), transposition and dictation; music history; acoustics; harmony; analysis; chamber music. Harpsichord study program included: organ, basso continuo harmony, history of early music, chamber music. Organ study program included: harmony; counterpoint and fugue. Further specialization was carried out at the Vienna summer international master classes with Alexander Satz (piano) and at courses at the Venice State Conservatoire (piano).
Subjects studied at the latter institution include piano, chamber music, library science, musicology.
OTHER STUDIES:
High School: From September 1982 to July 1987 Liceo Scientifico (secondary school concentrating on scientific studies). Main subjects studied: Italian and Italian literature, English and English literature, Latin, History, History of arts, Philosophy, Mathematics, Geography, Physics and Chemistry.
PROFESSIONAL EXPERIENCE AND ACTIVITIES:
I have performed on more than thousand concerts all over Europe, in Asia, Australia and Mexico, either as a soloist, chamber musician, orchestral musician or soloist with orchestra.
Most important concert locations: Beijing Concert Hall; State Philharmonic Hall and Rimskij Korsakov Conservatoire, St. Petersburg; Gran Theatre La Fenice, Venice; Cankarjev Dom (Gallus Hall) and Philharmonic Hall, Ljubljana; Concert Hall, Seoul National University; National Theatre of Malta; Klementinum and Martinů Hall, Prague; Musikverein, Gold hall,
Vienna (as an orchestra musician); Theatre St. Michel, Bruxelles; National Concert Hall, Dublin; Philharmonic Halls in Odessa, Kaunas and Ulan Bator; Academic Theatre, Tirana; Radio Auditorium "Mihail Jora", Bucharest; "Giuseppe Verdi" Theatre, Trieste; Budapest; Zagreb; Belgrade; Rome; Milan; Venice; Madrid; Copenhagen; Hobart.
Most important festivals: Ljubljana International Summer Festival; Trieste Prima International Contemporary Music
Festival; Biennale of Contemporary Music, Zagreb; Sundays at noon, Dublin; International Week of New music and Meridiana, Bucharest; Modern Music Festival Studio 2021 and Festival Dimension, Seoul; Two days & two nights of new music, Odessa; Iš Arti Contemporary Music Festival, Kaunas; European Clarinet Festival, Kortrijk (Belgium); Slovenian Flute Festival; Zagreb Baroque Festival; Musica Bayreuth; I concerti sulla Laguna, Venice; "Baroque" (under the Patronage of the European Community); "Tnjre", Artsakh; Summartonar, Faroe Islands; ClarinetFest, Madrid; Tasmanian Composers Festival, Hobart; Victoria International Arts Festival, Malta.
Collaborations with the following orchestras (as soloist and orchestral musician): Slovenian Philharmonic, Mozarteum
(St. Petersburg), Virtuosi Pragenses (Prague), RTV Slovenia Symphony Orchestra, Camerata Labacensis (Ljubljana), Mariborska Opera (Maribor), Academia Ars Musicae (Klagenfurt), Celje string orchestra (Celje), Opera Giocosa (Trieste), as well as with other various regional orchestras and choirs.
Collaborations with the following conductors: Arkadij Steinlucht (Russia), Rene Gulikers (NL), Carl Davis (GB), Simon Robinson (GB), David de Villiers (South Africa / D), Lior Shambadal (D), Anton Nanut, Marko Letonja, Marko Munih, Uroš Lajovic (Slovenia), Tonu Kalliuste (EST), En Shao (China), Steven Loy (USA), Juergen Bruns (D).
Collaborations with soloists: Violinists Črtomir Šiškovič and Gordan Nikolić. Principals of the St. Petersburg Symphony Orchestra. Principals of the RTV Slovenia Symphony Orchestra and Slovenian Philharmonics. Cellist Gregor Horsch. Clarinettists Karl Leister (Germany); Michel Lethiec (France); Jože Kotar (Slovenia); Franklin Cohen, Keith Koons, James
Gillespie, Robert Spring, Sean Osborn (USA); Koichi Hamanaka (Japan); Stefan Harg (Sweden); Chen Halevi (Israel); Paolo Beltramini, Rocco Parisi, Giammarco Casani (Italy); Radovan Cavallin (Croatia/Spain), Nicholas Cox (England). Flutists Carlo Jans (Luxemburg), Urszula Janik (Poland), Matej Zupan (Slovenia). The Ljubljana string quartet.
Chamber music: Member of several groups including the Trio Baraga (two trumpets and organ); for early music (on period instruments): Ensemble Claviere, I Musici della Serenissima and Nova Academia as well as for contemporary music: Ensemble MD7, Ensemble Neofonia and the KOS Chamber Orchestra (Soloists Chamber Orchestra of the Society of Slovene Composers) from Ljubljana.
Recordings (archive and live): Radio and television programs of the Italian broadcasting corporation RAI, Russian State Radio, Hungarian Radio, Croatian HRT Radio, Romanian State Radio, RTV Slovenia, Macedonian RTV; live recordings of organ concerts during the series "European Baroque Organ Music", a cycle of over seventy concerts held in 2001 with historic organs in Slovenia (private broadcasts).
Awards: 2nd prize at the Premio Venezia piano competition, Gran Theatre La Fenice, Venice (reserved for students who graduated with full marks from Italian conservatories) and, among the others, prizes at national competitions City of Albenga (Italy), Skriabin (Rome), finalist at a RAI radiophonic competition. "Lipovšek prize" of the Society of Slovenian Composers, as member of the Contemporary Music Ensemble MD7, 2013.
Compositions: some original compositions for solo instrument; a number of choir compositions based on the texts by authors from the Slovenian littoral region (some of them were first performed on international choir competitions in Maribor, Slovenia, and Olomouc, Czech Republic), and a short a cappella Latin mass for mixed choir.
Repertoire: Solo repertoire for piano, harpsichord and organ. Chamber music for piano (also harpsichord and organ) and instrument (duo/trio/ensembles with flute, clarinet, oboe, bassoon, violin, viola, violoncello, double bass, percussions, saxophone, horn, trumpet, trombone). More than thirty concertos (old and modern) for harpsichord and orchestra; concertos for piano and orchestra; piano quintets. Extensive experience as keyboard player within an orchestra (pianist as well as harpsichordist, organist and on celesta). Extensive repertoire for basso continuo in different ensembles and orchestras. More than 150 premieres of new works. (See detailed repertoires and premieres in the attachments)
CDs: As soloist and chamber musician: piano solo, harpsichord solo, violin and piano, double bass and piano, duo clarinet and piano, piano quintet with strings, violin and harpsichord, with the Ensemble for contemporary music MD7. As guest appearances: with Ensemble for contemporary music MD7, live recordings from concerts of baroque music, duo clarinet and piano, trombone and piano, violin and piano, trio two trumpets and organ, piano accompanist. Other CDs are coming soon: duo violin and harpsichord, duo violin and piano, duo clarinet and piano. (See detailed list in the attachment)
TEACHING EXPERIENCE:
I have taught piano at various schools in the Friuli Venezia Giulia region (Italy) for a number of years and taught at the music school in Sežana (Slovenia) for ten years. I have also acted as piano accompanist at State Conservatoires in Venice, Trieste and Udine and I taught two years at the Carinthian Conservatoire of Music in Klagenfurt (Austria), one year at Brescia State Conservatoire, two years at Ljubljana Conservatoire of Music and Dance (harpsichord). At the Salerno State Conservatoire I taught basso continuo at the postgraduate courses. At the Koper-Capodistria Secondary Schools for the Arts, Slovenia, I teach piano, harpsichord, chamber music and piano accompaniments. I am also piano accompanist at the University of Ljubljana – Academy of Music, where I have been appointed in September 2008 'Professional Associate – Senior Accompanist'.
Masterclasses: I have given masterclasses in both piano and harpsichord. I have been a piano and harpsichord accompanist at several international summer courses, mainly in Austria and Slovenia and I am the official piano accompanist at international competitions (clarinet; oboe and bassoon; winds, brass and percussions; strings) and masterclasses for solo instruments (flute, clarinet, oboe, bassoon, violin, viola, cello, double bass) taught by internationally renowned musicians.
OFFICIAL PIANO ACCOMPANIST AT INTERNATIONAL COMPETITIONS:
Beijing International Music Competition (China): http://bjimc.cn/artist_list5.htm l International Clarinet Competition, Kortrijk (Belgium): http://www.international-music-promotion.be/en/project/1st-international-clarinet-competition International Clarinet Competition "Città di Carlino" (Italy): http://www.concorsoclarinettocarlino.org/organization/collaborators/luca-ferrini/?L=1
International Clarinet Competition, Krško (Slovenia): http://www.wka-clarinet.org/Krsko.jpg
International Competition for Winds, Brass and Percussion, Strings and Accordion "Svirel" (Slovenia): http://gdnova.si/svirel?lang=en
International Clarinet Competition Ed. Américo Aguiar http://apclarinete.wixsite.com/clarmeetporto
International Competition for oboe and bassoon "OFF Beat", Krško (Slovenia): http://www.off-play-on.si/ (menu: OFF beat) also http://off.imovements.com/page46/page48/page54/page54.html
International Violin Competition "Henryk Szeryng", Toluca (Mexico): http://www.henrykszeryngconcurso.com/en/index.html International Competition for Young Violinists, Pianists and Chamber Groups "Giuseppe Tartini" (Slovenia): http://www.competition-tartini.com/en_korepetitor.html
SOME LINKS:
Ensemble for contemporary music MD7: www.md7.org
Internationale Musikakademie Feldkirchen (Austria): http://www.musikakademie-feldkirchen.at/dozenten.html Allegro Vivo Festival (Austria): https://www.allegro-vivo.at/team_member/luca-ferrini/?type=master Oboe Fagott Festival OFF, Isola (Slovenia): http://off.imovements.com/resources/OFF-2009/OFF_IZOLA_2009.PDF
Clarinet Seminars in Domžale (Slovenia): http://www.wka-clarinet.org/HN_Nov09.htm
Slovenian Flute Festival: http://www.slo-flute-festival.org/archive/8th-slovenian-flute-festival-may-1-2-2010/?lang=en and http://www.slo-flute-festival.org/gallery/gallery-2012-1st-day/?lang=en (archive, 2010, 2012)
OTHER ACTIVITIES:
Concert organizer: Artistic Director of the "Musical Meetings in Opicina" concert series near Trieste (since 1997) and hold international workshops in harpsichord and in piano performance.